Compare Alidropship custom store vs. Premium vs. Established to help you decide which store type platform is right for you.
Alidropship custom store, Premium, and established are all excellent store type platforms – and each has advantages and disadvantages. Custom stores and Premium are well-suited for business owners searching for all-in-one platforms, particularly those who want to be able to set up and administer their store as quickly and easily as possible. Established, on the other hand, is a superior option for users and business owners looking for a more approachable and affordable solution than others. But of the three store types, which is best for your site?
Overview
All three of these platforms are considered suitable to launch e-commerce firms around the world and are largely regarded as some of the best solutions on the market.
AliDropship runs a number of drop shipping stores that are directly connected to AliExpress. So, to begin, let's provide a review of each of these three software platforms.
AliDropship Custom Store Vs Premium Store Vs Established Stores 
You have two options when setting up an AliDropship custom store. You can select a Premium Store or an Established Store.
Features of AliDropship Premium Store
There are many benefits to establishing a premium AliDropship store.
These stores are optimized for maximizing profits and offer cutting-edge software. They also feature a fully developed website with original collateral and all the setup work already done for you. You can get started with your new dropshipping store in just a few days. If you're still trying to figure out how to set up a successful dropshipping business, a premium store is a great place to start.
The only thing you'll have to do is set up the website on your domain name and host it. Bluehost's free domain for one year makes it easy for you to set up your website without worrying about pointing your domain name or you can choose to stick with Alidropship free payment gateway, free hosting, and a custom domain.
A premium AliDropship shop is a high-quality website for a higher price.
A Premium Store will give you the most flexibility.
The Premium Store has a one-time fee and includes a variety of features that you won't find in a custom store. A custom store will be set up by a team of experts.
A premiuan exact copy of the top-performing dropshipping website of the AliDropship team.
A premium store is an AliDropship store without monthly payments. You can choose from the two options. The pure copy is a pre-edited website. Its manager will contact potential customers to determine what niche you should focus on. You can also select a package that includes social media marketing to build a community around your store.
The AliDropship Premium Store Package comes with an SEO-optimized mobile website and an installation package. With a premium store, you can get your products shipped within a few days and set it up in a few days. A premium store will also include marketing tools to promote your store. You can also sell the AliDropship website and use it to build a brand name or even a business.
With a premium store, you'll need a Facebook page for your store and multiple social media accounts.
An AliDropship premium store will include marketing and installation. You can start selling products as soon as you have them. A premium store will also include pre-imported products and come with a variety of other features. A premium store will also have a mobile-friendly website, which is essential for attracting and retaining shoppers. Moreover, a premium store will give you more control over your products and increase your credibility as a brand.
A premium store is a more advanced version of the custom store. It will include all the tools and information that you need to set up an online store.
A premium store allows you to customize the store layout to the exact specifications you want. It also includes the original packaging and marketing collateral from the dropshipping company.
A premium store is an established store that has been created by a team that has experience in dropshipping. You do not need to have any experience in dropshipping, so a premium store is a great choice for someone who has experience in the field.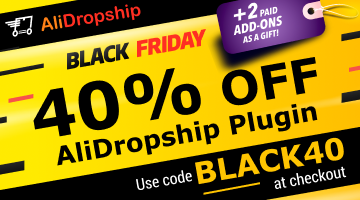 Features of AliDropship Established Store
The established store is the most expensive option.
. A custom AliDropship shop will require a domain name, social media, and a payment gateway.
High conversion rates: every store is already making a consistent profit — all you have to do is make it yours.
An established store will allow you to focus on your customers and profit. It will also help you promote your product. You can start selling your products from your website.
The Established Store has a low starting cost, which is why it is more affordable than a premium store
The Custom Store
You will need to set up your custom store with all the installation files. You'll also need to configure your site.
With a custom store, you can choose the design, theme, products, and marketing materials. Unlike the established store, a Premium Store will provide you with high profits monthly.
A customized store can be customized by using the free tools provided by the company. A standard AliDropship eCommerce platform is an excellent option for a dropshipping business.
A custom dropshipping website can be customized according to your preferences. The installation process is more complicated.
A custom store is designed to meet the needs of the person who wants to sell a specific product niche.
A custom store is the best way to build a profitable store. While a premium AliDropship site is better than an established one, a custom one is highly recommended.
Alidropship Custom Store vs. Premium Store vs. Established Store:
Conclusion
If you're looking to build an eCommerce store on the web, you have many options available. The AliDropship Premium Store provides you with a fully customized website with all the elements necessary for successful eCommerce. You can install the themes of your choice, as well as the AliDropship premium website. Its dashboard shows all activities and provides statistics of the sales. If you're looking to create an eCommerce store for your business, you'll be glad to hear about the many features of the custom website.
Please follow and like us: